AD9850 Module DDS Signal Generator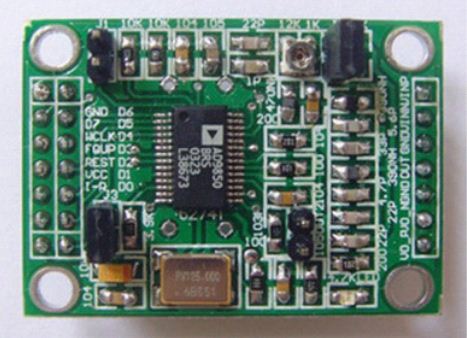 The continued demand for technological devices getting smaller port as a result a high price that the investigator has to pay in terms of the difficulty of finding and assembling. Devices DDS (Direct Digital Synthesizer) are no exception. One of the simplest and most cost devices from Analog Devices, AD9850 , looks like a small chip for surface mounting, with two rows of 14 pins. The distance between two legs is less than a millimeter , exactly 0.65 mm . This fact makes us understand how to use such a device is essential to a printed circuit board . But not enough! The feet are so close together that the weld is difficult. All these problems are overcome using the demo board AD9850 Module DDS Signal Generator . The board is already done, all the components are soldered missing only our imagination to invent applications.
A search on the net shows a lot of sources that provide the module in question at prices more diverse. Personally I turned Arduiner , where I found speed, availability and courtesy.
Related Topics
Documents: Modulo AD9850