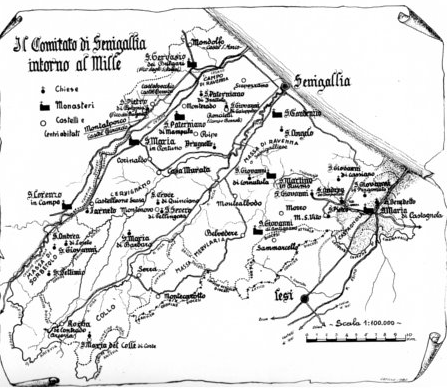 Probably around the fourth century BC where the river, now called Misa, flows into the Adriatic Sea, the Senones founded the town of Senigallia. The original name was Sena, which was subsequently added to the legion, thus SenaGallia.
The city, one of the first Roman colonies on the shores of the Adriatic Sea, had its ups and downs over the centuries.
In 409 A.D. the city was destroyed and its citizens scattered by Alaric, king of the Visigoths. With the administrative reform, the Byzantine instituted the "Exarchate" and the "Pentapolis", of which the city was part. Around the thirteenth century, the city began a long period of decline, "From big city to small country" entitles Polverari (1). Dante associates 'Sinigaglia' to the cities that "have end" (2). In fact around 1300 the city had 350 "fires" according to Beloch (3).
In the thirteenth century, the noble wife of Count Sergio, lord of the city, brought to her husband in her dowry a religious relic of St. Mary Magdalene. From the popular devotion to the festival dedicated to the Holy the "Fiera della Maddalena", "fair of Magdalene", now "Fiera di Sant'Agostino","Fair of St. Augustine" started, which was free of import duties and taxes by Sigismondo Malatesta, and then was legaly recognised by Giovanni della Rovere. In later centuries it became one of the most important fairs of the Mediterranean.
In the first half of the fifteenth century, Sigismondo Malatesta rebuilt the city surrounding it by walls and ramparts and incorporating the fort enlarged by Cardinal Albornoz; this fortress enlarged again later,became the current Rocca Roveresca, Roveresca Fortress. In addition to the architectural reconstruction, Sigismund also oversaw the civil rebirth of the city. With numerous proclamations, he repopulated the city by granting newcomers lands, cattle, amnesties and debt exemption from customs and excise duties (4). This probably attracted many people of dubious morality. The dense presence of Jewish communities in the city, along with that stated earlier, probably gave origin to the saying, "Senigallia, half Jewish and half rogue".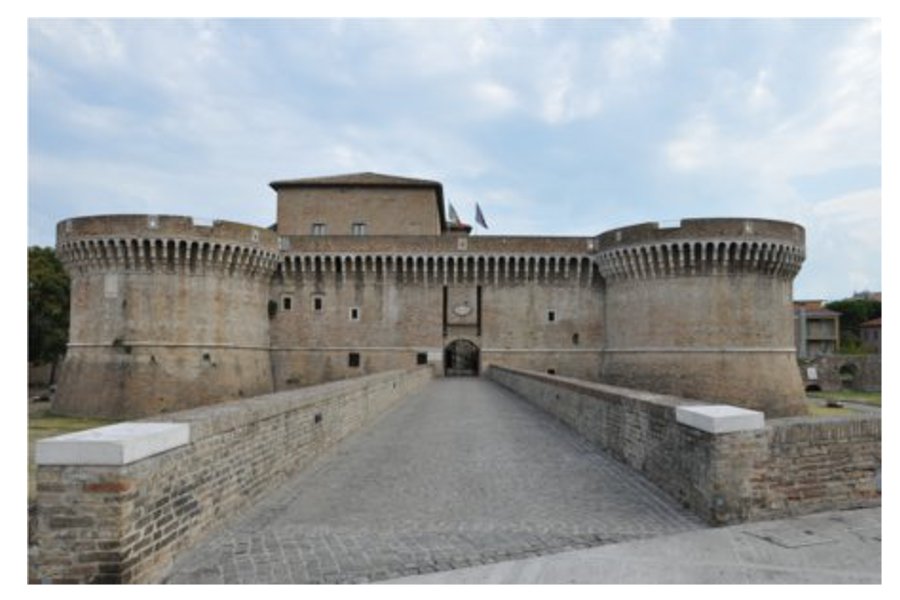 The leadership then passed to Giovanni della Rovere, new ruler with the title of Duke. Many signs of the Duke are still there with the writing of IODVX . To be remembered is the brief dominion of Cesare Borgia, better known as Duke Valentino, which is associated with the tragic memory of the massacre of Senigallia in 1502 as reported by Machiavelli.
In 1626 Senigallia became part of the Papal States and later of the Kingdom of Italy. Today the city has a vocation for tourism thanks to its fine sandy beach, known as the Velvet Beach.
-----------------
(1)-Senigallia nella Storia Evo Medio, A.Polverari
(2)-Paradiso,XVI , 73-78, D. Alighieri
(3)-Bevolkerungsgeschichte Italiens, Vol. II, V.Beloch
(4)- Archivio Comunale Senigallia, Vol. 813